"I know both how to be abased, and I know how to abound: every where and in all things I am instructed both to be full and to be hungry, both to abound and to suffer need. I can do all things through Christ Who strengthens me." Philippians 4:12-13
We praise YHVH for His Presence and all the He allowed us to do, see and experience in El Salvador. The one word that describes this time is FULL. He FILLED us to the point of bursting with a Word: for Ron "How Big is your God?" and for Luan "Marriage – the Mystery of Christ and the Bride". Then He emptied us with an 11-hour overnight flight and a touch of food poisoning during the trip; we landed totally drained physically and began a rigorous 9-day speaking schedule with associated meetings only 6 hours after we landed. We were right in the place the Father wanted us: totally aware that we needed to draw our physical, mental, emotional and spiritual strength from Him. He in turn gave us nine days FULL of encounters with individual couples, groups and congregations. FULL of mutually encouraging exchanges with friends and co-laborers. FULL of hope, as the Father time and again reminded the weary that He is Faithful to keep His promises. And, although completely spent, we left feeling FULL (not lacking or omitting anything; complete) emotionally, mentally and spiritually….Only Jesus can fill you and empty you in the same encounter!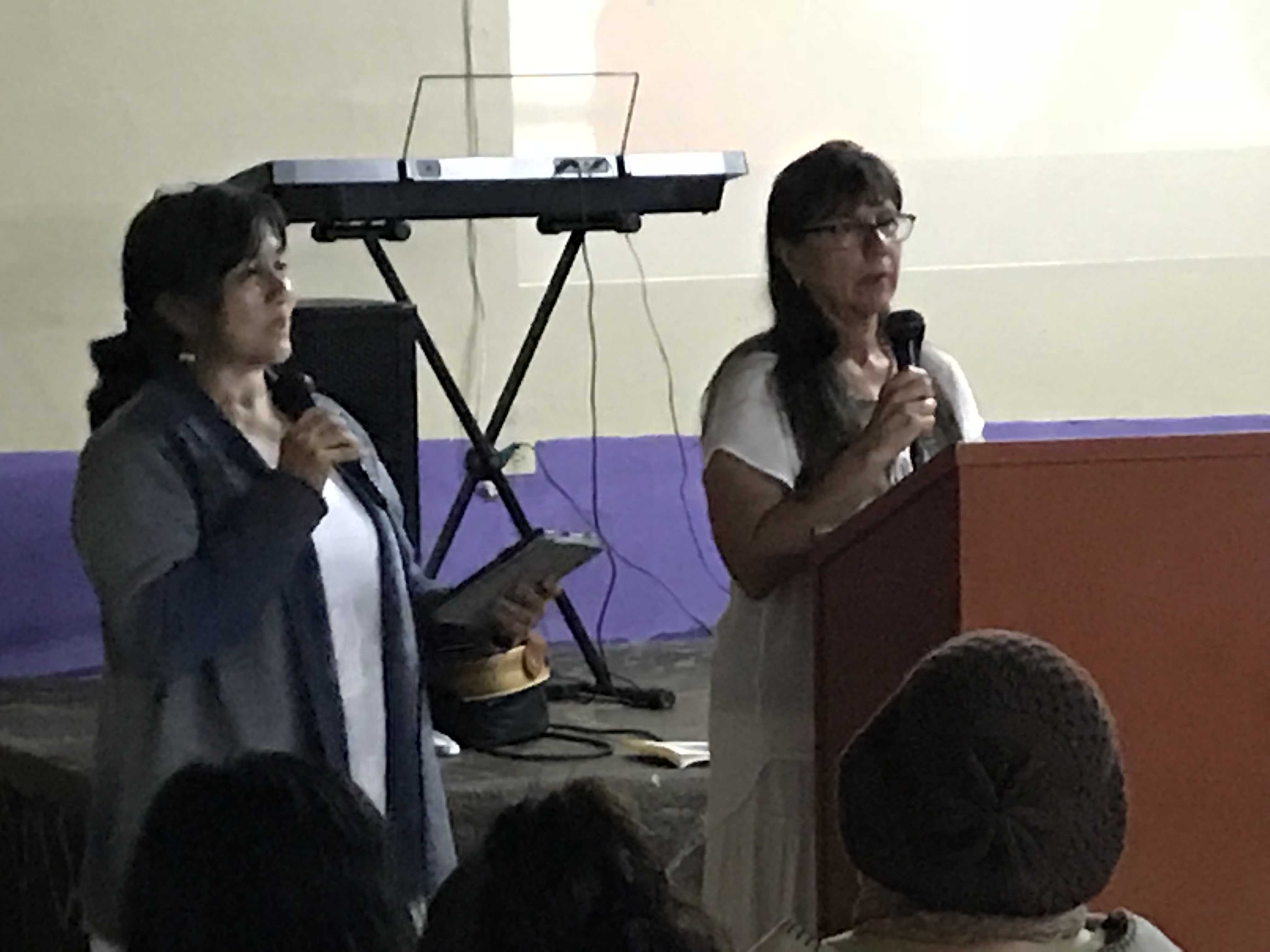 Luan with Sister Gloria de Castellanos translating
This was one of those trips where we saw fruit from previous visits as well as sowed and watered for future harvest. We met with six couples individually, recognizing that at least for two it was the Father's perfect timing to give them a word of faith and hope. In addition, Luan encouraged ladies at an annual retreat and two groups of Pastors Wives to discover the mystery of Intimacy with our Bridegroom. Ron exhorted one group of Pastors, three groups of Pastor Couples and four Congregations to challenge their personal concept of God. If we really believe He is the One who breathed stars like UY Scuti from His mouth, how can we doubt that He will be Faithful to deliver us, protect us, provide for us…..? Ron also encouraged four groups of Pastors in their role as husband. Even though we spoke through a translator (although, Ron incorporated a LOT of Spanish while preaching) in nearly every service or meeting, we could see individuals connecting with the Word. And, several took the time to tell us personally that they'd been touched by Jesus.