August 7, 2018
"..asking God to fill you with the knowledge of His will in all the wisdom and understanding which the Spirit gives; so that you may live lives worthy of the Lord and entirely pleasing to Him, being fruitful in every good work and multiplying in the full knowledge of God. We pray that you will be continually strengthened with all the power that comes from His glorious might; so that you will be able to persevere and be patient in any situation, joyfully giving thanks to the Father for having made you fit to share in the inheritance of His people in the light." Colossians 1:9-12 CJB
After reading a portion of Scripture like the one above it's so simple to think, "yes, Lord! I want that. Do that work in me." Life goes on and you don't think much more about it.
We spent the past month in Phoenix, Arizona where the temperature highs were 105-115 and the lows were 87-90….Ugh! But, it was well worth it to spend time with family while also helping in practical ways. We know the Father told us to spend this year with family and taking care of some serious maintenance issues at both the house in California and the one in Phoenix. We wondered what that meant for Raven Ministries, but we've experienced that our Father is always bringing us into the lives of Pastors and them into our lives at the right moment. He is the expert at "working all things together for good." While in Phoenix we met with two Ministry Couples for a time of encouragement, Ron was invited to attend a Pastor group meeting and He preached in a church; and we still managed to scrape, sand and repaint the back of the house. An added blessing was our house in California being used two separate times while we were gone to give a Pastor Couple and then a Pastor's wife a time of refreshment (Raven's Rest).
That all sounds quite stress-free. In reality it was anything but. Throughout the month, we individually and together struggled with the purpose of it all. Between the extreme heat and the dusty, sticky and labor-intensive work we ran low on strength and good humor less than half way through. To put it mildly, we struggled through the month praying to make it to the end without strangling each other or someone else….only joking :-) Then the night before we planned to return to California a monsoon hit, typical for Phoenix this time of year, tearing several shingles from our roof and shed. Which resulted in delaying our departure for several hours and turning a one-day trip into two. Oh, we forgot to mention, we were trying to train our nearly 9-year-old dog who suffers from separation anxiety to stay at home alone. Did we mention this past month was not stress-free? We were doing what is best for him. Keeping him in a cool, familiar environment when we had to be gone. But he was having none of it. We left him in the fenced in back yard. He swe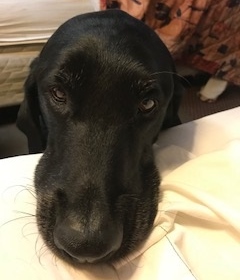 Rockyat through his paws and drooled and by the end of the week broke two slats out of the gate in the back yard and escaped. Then, we borrowed a kennel from our nephew. He didn't damage anything but continued to sweat, drool and let us know in every way he could that he wasn't being treated fairly.
As we reflected on the month, we realized that our dog Rocky is a good picture of us. God knows exactly what we need and where we need to be….but sometimes we sweat through our paws and let Him know just how distressed we are by His plans. Ouch!